The peanut roasting machine also called roaster frying machine, and it is a kind of food process machinery which can be used to roast the chestnut, peanut, almond, melon seeds and walnut etc. The roaster has the advantages of one machine with multi – use, easy and fast, time saving, labor saving, high yield rate etc. At present, the roaster is the most ideal roasting equipment.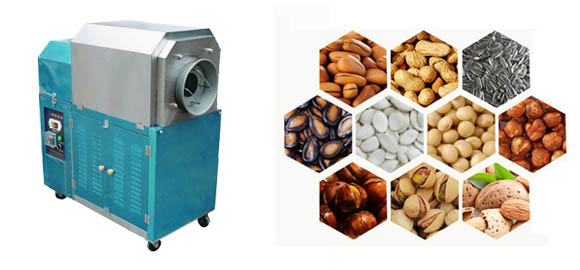 | | | | |
| --- | --- | --- | --- |
| Model | Heating  | Capacity | Size |
| KZ-25L | 6kw  | 12.5kg  | 990*470*100mm |
| KZ-50W | 9.5kw  | 25kg | 1250*600*1300mm |
| KZ-100W | 16kw | 50kg | 1500*800*1560mm |

Features of peanut roasting machine
1. The roaster machine has various kinds of models and two ways of heating—gas heating and electricity heating.
2. Unique horizontal drum structure, it has uniform heating and good sealing.
3. The gas heating roaster is equipped with energy saving stove with adjustable fire power. The electricity heating roaster has temperature controller, the temperature are adjustable.
4. The outer layer of the drum is made of high quality asbestos as the thermal insulation material, which has good performance of thermal insulation and high thermal efficiency. It ensures the temperature requirement of different materials for roast and good flavor. At the same time, it is time saving and electricity saving.
5. The material is easy to out of the pan. The screening and separation are realized by press the button of clockwise. It is not use to separate by human.
6. During roastering process, the materials are roasted in the drum without sticking the pan.
7. It is adaptable for various kinds of dried fruit and nuts, like chestnut, peanuts, melon seeds, pine nut, hazelnut, almond, rapeseed, sesame, beans, red dates, coffee, walnut, all kinds of beans, wheat, rice etc. It is applicable to all major shopping malls, supermarkets, food stores, chain stores, street snacks and other places with dense populated areas for designated operation and processing. It is your good helper to get rich.
Maintaining of peanut roasting machine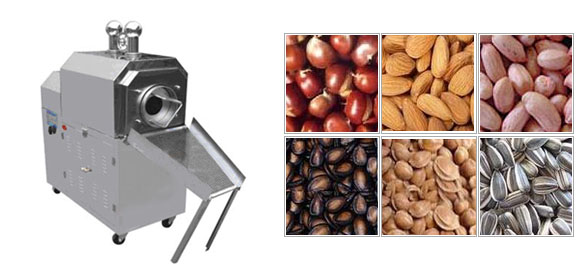 1. Add machine oil to each oil mouth before work. Do examine whether the worm gear box is lack of oil every week.
2. Close the air button for stop the machine of every shaft. If the roaster machine is out of use for a long period of time, the materials in the pan should be cleared out completely and drop a little bit eatable oil at the feeding mouth for 3 minutes continuously. The pan should be remained with oil to ensure the pan without rust.
3. If the roaster machine is out of use for long period of time, the roaster should be idle running for 10-15 minutes before using. Remove the remained sundries and dry the oil in the drum for heating.
4. The roaster machine should be rotates for heating. Close the roaster and the machine still needs to operate for 5-8 minutes.