Roasted peanut red skin peeling machine is used for peeling the red skin of peanut after roasting or heating in the oven or roaster, and the output peanut will not broken, will be whole peanut kernel. It has the characteristics of high peeling efficiency, high integrative ration, and no pollution, etc. It is essential equipment for deep processing of peanut, almond, broad bean, soybean, etc.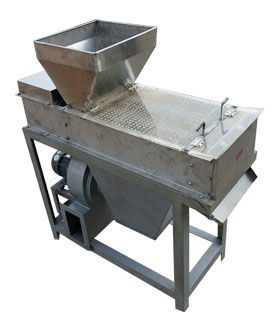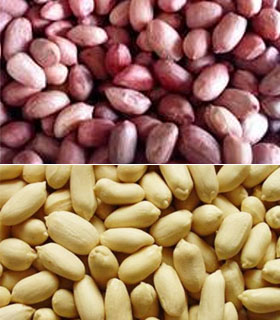 Feature for peanut dry peeling machine
1. The food-contacting part is made of stainless steel.
2. Reasonable structure,low noise,long service life.
3. High peeling rate,low damage.
KMGT-4
KMGT-8
KMGT-12

Power Source: 0.75kw ;
Peeling Rate:96%
Broken Rate: 6%
Capacity:200kg/h
Size:1100*400*1100
Pakcing size: 1250x500x1200


Power Source: 1.5kw ;
Peeling Rate:96%
Broken Rate: 5-20%
Capacity:400kg/h
N.W/G.W: 200/260kg
Size:1100*600*1100 mm
Packing Size: 1200*700*1200mm


Power Source: 2.61kw
Peeling Rate:96%
Broken Rate: 5-20%
Capacity: 600 kg/hr
N.W/G.W:300kg/370kg
Size:1100*850*1100mm
Packing Size: 1200*1000*1200
Peanut dry peeling machine is the most advanced peanut dry peeling device, has the advantages of reasonable structure, stable operation, long service life, high threshing rate. And can use multiple combinations, peeling quality to meet export standards. Mainly used for blanched peanuts, peanut butter, peanut milk, peanut particles before production