We can gained much better using effect if we pay more attention the daily using of peanut shelling machine
1. before using, please inspect each fastening pieces are tight or not, the rotating part are flexible or not. Each bearing have lubricant oil or not. The peanut shelling machine should be placed on the stable ground.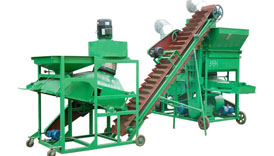 2. After the motor starting up, the rotor direction should be identical to the machine indicate direction. Run idle for a few minutes at first, and observe the machine whether has abnormal sound. After the machine is in normal operation, the peanut are feeding into the machine evenly.

3. The peanuts should be feed evenly with proper amount. It can not be mix with iron scrapes, stones and other impurities to avoid of the peanut breaking and machinery failure. When the peanut are being covered with the whole sieving surface, the discharging button could be open.

4. When the peanut kernel contained more shells, the motor should move to the downward to avoid of tightness of fan belt and increase the wind blowing amount.

5. After the machine are used for a period of time, the surface dust, dirt and inside remain materials should be removed and cleaned before storage. The belt should be tore down and kept separately. Every part of the bearing should be cleaned by diesel oil and coated with grease after complete drying. The machine should be placed in the drying storehouse, to avoid of the sun and rain.

6. The transmission part and the bearing should ensure to have enough lubricant oil, and it is necessary to clean and change them regularly.

KMEC is the earliest manufactures to develop, design and produce the peanut machinery equipment in China with many years production experience, first class production equipment and standard finished products. Welcome to consult and purchase our products.