Many farmer friends throw away the agricultural machinery and tools casually after using, which has big influence to the agricultural machinery. It is an important job to maintain the peanut harvest machine. And careful maintenance can improve the work efficiency of peanut harvest machine. At the end of the day's work, the first point is to clean the earth on the spare parts of agricultural machinery. The remained peanut shell, crushed straws and other attached objects on each part of the machine should be cleared every day, especially for the attached objects like rank grass. After the peanut harvest machine has been operated for a week, the cardan joint and bearing should add the grease and it is necessary to inspect and replenish the other lubrication points. Examine the wearing condition of belt of peanut harvest machine. If it is wearing heavily, the belt should be replaced instantly.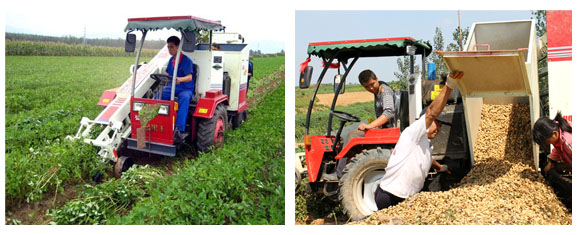 Lubricant all the friction part instantly; all the chain fixed outside should be lubricated with machine oil everyday. The chain should be cleaned in the cleaning oil every 3-5 days. It is necessary to adjust and repair the problematic part which is found during examination to get rid of the failures and avoid of new failures.

Examine the machine frame, fastening part of train preparation, the screws and anti loose pin of each drawing bar are loose or drop or not. If necessary, it should be fastened or replaced instantly.

The machine should be placed at the where there are(is) no sunshine or air. Use the brick or other object to pad the machine frame, thus the digging blade and depth roll can off the ground. At last, the peanut harvest machine should be covered with a plastic cloth. The unpacked driving spindle, hydraulic tubing and ground roller had better be placed on the flame to avoid the damage of these parts.
Since founding, KMEC has always committed to the manufacture of peanut processing machinery of high quality to provide continuous assistance to the peanut food processing manufacturers. Welcome to purchase our products.