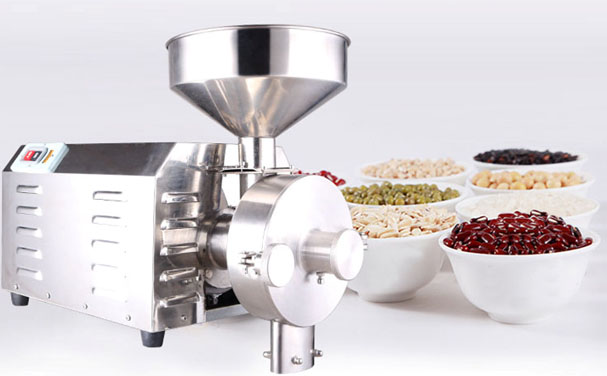 Home electric grain mill is made of high quality stainless steel with finishing technology. It has strong power. Living power of 220v or industrial power of 380v can be used according to customers' needs. All kinds of beans, corn, oats and other materials can be ground into uniform powder of 50-200 meshes easily with the household electric grinder. The new machine has nice appearance with advantages of simple, quiet, exquisite, durable and power saving. The spare parts also have superior quality and shoddy, low-cost accessories are firmly eradicated to ensure buyers find the most agreeable "partners" with the least money.
The following are the main advantages of grain mill:
1. All stainless steel;
2. The motor is equipped with overload protector to avoid burning or overload of motor, convenient and safe;
3. Special copper core motor with low noise and stable performance;
4. Punch forming feed hopper, no welding seam, beautiful modeling;
5. The discharging outlet is equipped with strong magnetic device;
6. The crushing chamber door increases the sealing ring;
7. Continuous feeding type production, high efficiency;
8. The feed speed and material thickness can be adjusted.
Processing range:
All kinds of food including sesame seed, walnut, rice, black rice, soybeans, mung beans, peanuts, lotus seed, corn, sorghum, barley, buckwheat, oats, etc.