Peanut picking machine is a kind of professional peanut harvesting machinery. There are many kinds of machinery. Now let us introduce to you two kinds of peanut picking, they are full feeding type and half-feeding type. What are the features and differences of them? let's take a close look at it.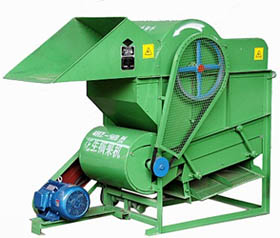 Full feeding type of peanut picking is fit for the dried peanut fruit under sunshine. The operation process is similar with the simple sheller. When the peanuts with peanut vine are feeding into the chamber of picking, the nail tooth on the cylinder pick up the peanut and the peanutvine are discharged out from the cylinder. The peanut fruit leaves and scrapes fall out from the gravure screen. Then the fan blows out the sundries by the air flow. The peanut kernels are conveyed to the collective bin through the rotary pushing device.

The half-feeding peanut picking is fit for the wet and dry peanut fruit. When picking the fruit, the peanutvine are clip into the belt of conveyor uniformly. The peanut fruit are conveyed to the picking chamber, and the peanut fruit are picked up by the gear of the machine, then cleaned and graded by the vibration sifter and fan. After that, mountain scraper conveyor put them into the collective bin.

The processed peanutvine are transmitted to the other side the machine. This model has the features of high quality of fruit, less breaking rate and less power consumption. The picked peanutvine are tidy which are easy to store and comprehensive use. Therefore, the transmission is much more complicated and the cost of machine manufacture is high. The working efficiency is lower than the full feeding type.

Peanut picking is the equipment to process the late phrase of picking job, and it belongs to the peanut combine harvesting machine. The operation of both kinds of peanut picking machine is simple and flexible and convenient, and the damage rate is lower. It can save the labor force,  time and greatly improve the working efficiency. As the main product of peanut machinery, it has been promoted and applied significantly. In addition, peanut machine, peanut sieving machine and roster machine are our company's primary products. Welcome to purchase our products.