Peanut peeling machine mainly adopts rolling and rubbing peeling method with the advantages of stable and reliable performance, long service life, good peeling effect, high productivity, low half grain rate, good quality and so on. It is suitable for processing various specifications of peanut and is one of the equipment that makes great contribution to the development of agriculture. The following is an introduction of two types of peanut peeling machine:
Peanut peeling machine (dry method)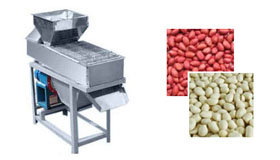 The peanut peeling machine has wide scope of application, suitable for previous shelling of peanut butter, peanut milk, cakes and milk peanut products. After shelling, there is no whole grain and kernels and shells are automatically separated. There are four functions: shelling, sectioning, degermination and screening with high automation program, high broken rate, small noise, no pollution and other characteristics. The machine is provided with a dust suction device and the vibration sieve. The dust suction device can be used to suck red coat of peanut, and the vibration sieve can effectively remove the peanut bud embryos, thus separated into ideal peanut half grains.
Peanut peeling machine (wet method)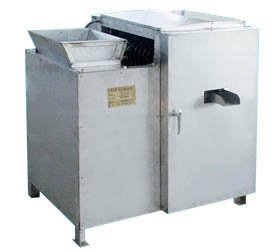 This kind of peanut peeling machine is the special equipment for shelling peanut with wet processing. It can be used with fried peanut production line or for single use. The peanut peeling machine is widely used for previous shelling of frying, flavored peanuts, peanut protein milk, eight-treasure porridge, sauce peanuts and canned products. There is an unique deslagging device, individual small particles after shelling and finished products can be separated automatically and discharged out of the machine, which avoid too many impurities in the frying process and the frying oil pollution. The peeling rate is high without broken, the colour is white without brown stain, no invariance of protein, kernels and shells are separated automatically and discharged during shelling process.