The specification of peanut baking machine
Peanut baking machine for a variety of peanuts, sunflower seeds, sesame, soybean, nutlets, soybean, ground nuts etc. Applicable to various shopping malls, supermarkets, food stores, chain stores, individual enterprises processing site using, and it is clean sanitation, cover an area of an area small, environmental protection and free from contamination. Nowadays it is the most ideal making equipment.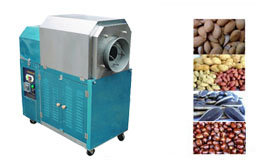 The parameters of peanut baking machine
Model:KZ-25
Heating :6kw
Capacity:12.5kg
Size:990*470*100mm

Features of baking machine
The feature of peanut roaster machine
1.Stainless steel material, arc structure, Use a unique roller horizontal structure, uniform heating, good sealing.
2. Gas or electric, charcoal, firewood, coal option .
3. Peanut baking machine works automatically which doesn't need the workers to stir. The back cover can be opened, so that maintenance and repair conveniently.
4. Out of the pot is convenient, as long as click back switch, it can out of the pot sifting separation, without the artificial separation.
5. Suitable for processing a variety of dried fruits and nuts, such as:chestnut, peanuts, melon seeds, pine nuts, hazelnuts, almonds, canola, beans, date,groundnut,sesame, walnut,various beans, wheat, rice, etc.

KMEC is a professional roasting machine manufacturers. We always quest for perfection with continuous creation. Warmly welcome everyone to visit our company and make business negotiation.