Introduction of roaster machine
This product is made of stainless steel processing and manufacturing, mechanical stability, the use of closed chain drive, gas fire, heat, low loss, high efficiency, safety and health.Roaster machine can fry of various food (chestnut, peanut, melon seeds, barley, walnut, pine nuts,hazelnuts, barley, wheat, soybeans, rice, corn, sesame, coffee, tea, spices, herbs, spices etc.) This machine is applicable to factories, supermarkets, shopping malls, food stores, individual households processing .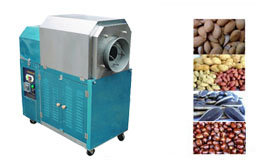 The parameters of roaster machine
Model:KZ-25
Heating :6kw
Capacity:12.5kg
Size:990*470*100mm
Features of roaster machine
The feature of peanut roaster machine
1. Adopting copper wire motor, with low noise and long service life.
2. Using horizontal cylinder, with even heating, good sealing and fried effect.
3. Improved structure, the back cover can be opened, so that maintenance and repair is quite convenient. There are two kinds of rollers: iron material and stainless steel material, customer can choose the type they want. The rolling direction is adjustable, can roll at clock wise and counter clock wise.
4. Two kinds of heating type, gas/coal heating or electric heating.
5. The heat preservation material is best quality asbestos, High insulation performance, can match the temperature requirement for all kinds of nuts.
6. can be used to roast all kinds of nuts,such as sunflower seeds, peanut, cashews, almonds, chestnuts, walnuts,coffee bean,sesame, rapeseeds, soybean, and so on.

KMEC is a professional peanut roasting machine manufacturers. We always quest for perfection with continuous creation. Warmly welcome everyone to visit our company and make business negotiation.