Fully automatic peanut cleaning machine uses spaced brush rollers to form a semi-closed cleaning trough. Brush rollers of the automatic peanut washing equipment rotate in the same direction, brushes are used to turn over materials, combined with spraying water for fast cleaning and peeling of oval fruits and vegetables. Mainly suitable for cleaning root materials such as potato, sweet potato, carrot, peanut, etc. The material of brush roller is processed by special technique. Manual flocking of automatic peanut cleaning machine avoids the problem of hair slip of machine flocking with large effective volume of cleaning and peeling, high efficiency and water saving. The brush type peanut processing equipment can clean continuously with simple operation and long service life.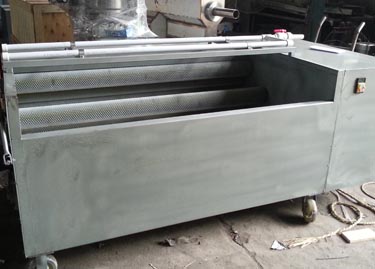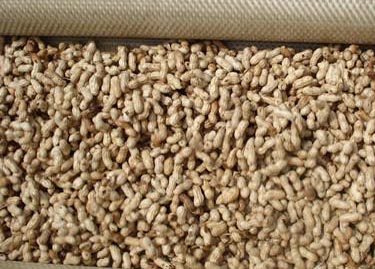 In addition, required specifications can be customized according to customer's requirements.
Peanut cleaning machine
1: Dimensions: 1800 * 880 * 800 mm
2: Power: 1.1 KW 380 v / 2.2 KW 220 v
3: Production capacity: 300-500 kg/h
4: Weight: 300 kg
Start the peanut sashing machine first before feeding materials to avoid excessive starting load affecting the service life of the machine. Open the discharging port after cleaning to discharge the materials. Automatic peanut cleaning equipment has high cleaning efficiency, good cleanliness and simple operation. It adopts double speed motor with long service life, roller materials with special craft processing of durable and wear-resistant. The whole machine adopts high quality stainless steel with rotary discharging, corrosion resistance, clean and sanitation.
KMEC is a professional peanut processing equipment manufacturer in domestic. Peanut butter machine, peanut roasting machine and frying equipment produced by our company are favored by the customers. Welcome customers to contact us for business inquiry and consultation.