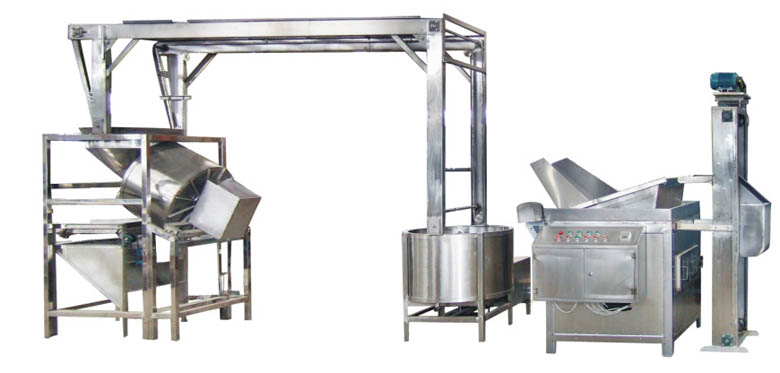 The peanut frying production line is a new generation of product produced on the basis of the introduction of foreign technology and concentrate study of the technical personnel with the features of advance, practical, cheap and fine. It can save a lot of human resources and greatly reduce the production cost of the products. Main equipment of the peanut frying production line are the automatic soaking machine, peeling machine, drying device, frying machine, deoiling machine, dressing machine, elevating conveyer, cooling and packaging device, etc. It can be used for processing multi-flavor peanuts, spiced salt peanuts, fried beans, fried almonds, etc. The peanut frying production line has the advantages of high degree of automation, low labor intensity, versatility, low energy consumption and high product quality.
Technological process: peanuts - soaking - peeling - picking - drying - frying - deoiling - dressing - cooling - packaging
The automatic continuous frying production line is made of imported high quality stainless steel with clean and beautiful appearance. Conduction oil is used for heating. Continuous frying of peanuts, beans and all kinds of nuts can be achieved with the automatic frying production line.
Main application: widely used in frying process of beans and nuts, such as broad beans, soy beans, green beans, peanuts, cashews, walnuts and others.