Model 1500 sunflower seed dehulling and separating machine can realize shelling, peeling, separating and rechecking of sunflower seeds. The machine uses more hulling machines and vertical wide screen surface design, greatly improving the hulling and separation efficiency and saves the space. It has the characteristics of low loss, easy operation and maintenance.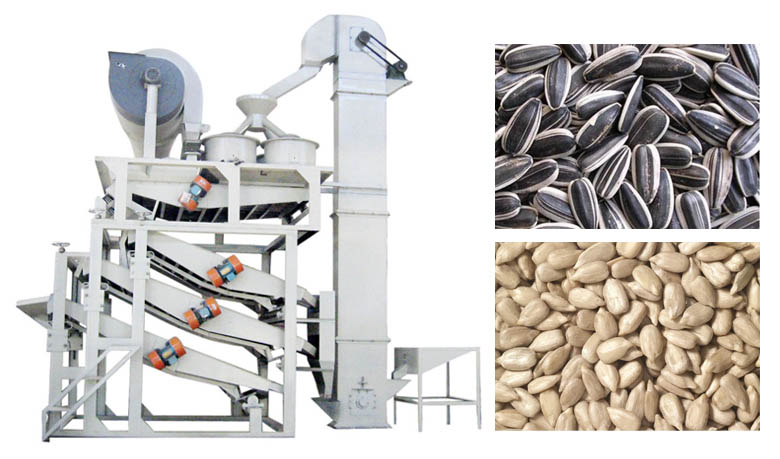 Main parts of TFKH-1500 sunflower seed dehulling machine:
Hopper, Material Hoist, Muti-functional Impurities Remover, Bucket Elevator, Hulling Machines(4 sets), Wind-recycling Unshelled Materials System, Gravity Separator, Kernel Collector, Controller Cabinet.

Technical parameters:
Power: 16.47 kw (380 v)
Capacity: 0.5-1.0 tons/hour (vary from materials)
Rate of perfect kernel: ≥90% (larger than half of whole kernels )
Grain contained in pure kernels: ≤2.5%
Floor space: 11.3m * 3.3 m
Installation height: 5.5 m
Weight: 5.2 tons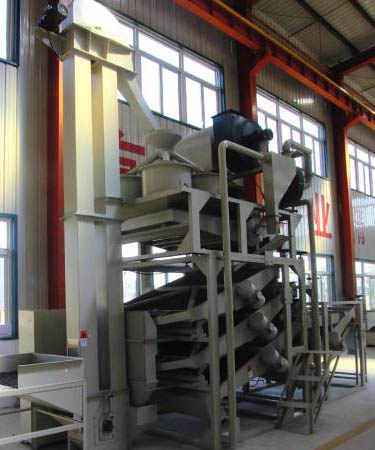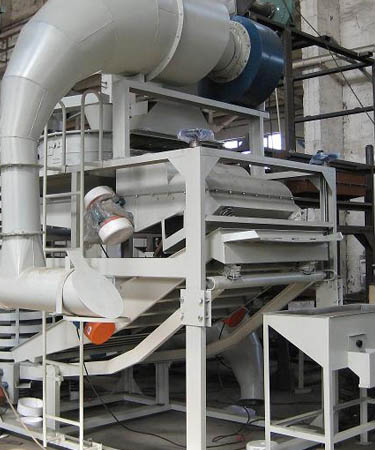 Features of TFKH-1500 sunflower seed dehulling machine:
1.Vertical design saves the space.
2. Wind-recycling Unshelled Materials System is used to send the unshelled seeds back to the hulling machine for second hulling.
3. The better ideal separating effect can be realized by adjusting the tilt of the screen.
4. The core of the shelling machine is made of the full steel and the blades is made of 99% alumina ceramics in order to enhance the shelling effect and prolong the service time.
5. Screw discharger is used for convenient collection of sunflower shells, reducing the dust.
6. The operation of chaffer screen can separate the seeds and kernels easily during the shelling process. The blades of screen are made of high-quality cold-roll steel sheets, so they are tough and durable.
7. Wide screen surface design improved the capacity.
8. The whole equipment is centralized controlled by electric control cabinet, the operation is simple and intuitive. Sunflower seed dehulling machine adopts frequency conversion design to adjust frequency according to the condition of material at any time.
9. The vibration motor is used as vibration source of whole equipment. Installation of the sunflower seeds separating equipment is convenient and fast and don't need any basis.

Impurity remover and gravity separator can be used together with the sunflower seed dehulling machine according to the actual production needs to achieve better effect. The sunflower seed dehulling machine has less seed loss, easy operation and maintenance.