Peanut picking is a laborious work, while the use of self-propelled peanut picker machine can harvest 8 acres of peanuts per hour with less damage of peanuts. It greatly reduces the labor intensity and saves the labor time and manpower. Nearly hundred acres of peanuts can be harvested by two people if using the peanut harvester and self-propelled peanut picker machine together.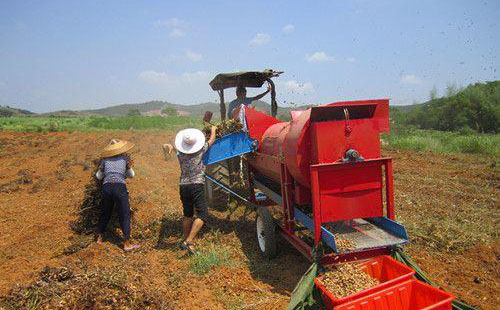 The self-propelled peanut picker machine developed by our company is mainly used after excavating and drying of peanuts and suitable for both dry and wet stalks. Peanut collecting, picking, cleaning and packing can be realized and peanut stalks chopping, collecting and warehousing can be achieved simultaneously.
The weak link of peanut production is the low level of mechanization in the process of peanut planting and harvesting, especially combined harvesting. In recent years, the demonstration promotion has been carried out in Anyang city with emphasis on Neihuang, relying on professional agricultural machinery cooperatives and other new types of agricultural operation organizations. Agricultural machinery purchase subsidy plays the role of guidance and explore full mechanization production mode of peanuts. Mechanized harvesting of peanuts achieved 230000mu last year in the whole city with mechanical-harvesting rate of 57.5%. The mechanization level of peanut harvest in the city has been improved.