The new type energy-saving peanut frying machine has various heating modes, including electric heating and coal heating. It is a smoke-free, multi-purpose, water-oil mixed frying equipment, which adopts the world's most advanced oil-water mixed frying process, completely changed the structure of the traditional frying equipment, fundamentally solved the disadvantages of traditional fryer. All kinds of food can be fried at the same time without getting tainted by other odor with multi-usage. The fried food is good in color, aroma and taste with clean and beautiful appearance, and the product quality is improved, which prolongs the shelf life.
The bottom of peanut frying machine is funnel shaped so that small dregs can precipitate into the funnel shape sediment area below automatically during the operation of peanut frying machine. Then, oil and dregs would be pumped on the oil screen cloth under high pressure. The oil flows back into the fryer and residues will stay above the oil screen cloth to be cleaned up. Cleaning and frying can be achieved simultaneously, which is quite convenient. To prevent the oil from getting into paste in winter, oil pump used should be high temperature resistant with the motor of 2.2kw so that the oil can be pumped even in winter.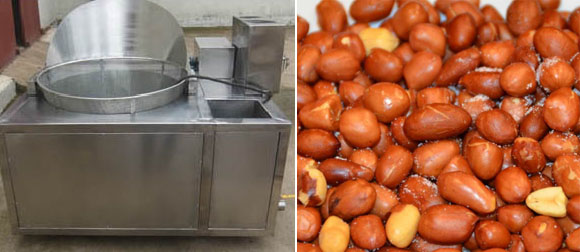 For operators, correct use and maintenance of peanut frying machine are quite important. The following is an introduction of the maintenance of frying equipment.
1. Oiling of furnace body must be made to avoid the burnout of the electric heating tube.
2. The heating tube of peanut frying machine would get black after using for some period of time, it should be cleaned in time.
3. Clean residues on the surface of peanut frying machine timely. The residues cannot be accumulated too much or too thick to prevent fire caused by storage of heat.
4. Change the water of water-oil mixed frying equipment once a day in summer. In winter, the water can be changed regularly according to the quality of water.
5. Heating tube must be immersed in medium to work.
To get more information about peanut frying machine, please visit our peanut machinery website at www.chinapeanutmachinery.com.