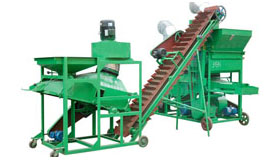 Now it is the season for peanut harvest, and the peak season of peanut shelling machine is coming. And now more and more people are using peanut shelling machine due to time and labor saving and high efficiency. So let's have a look at how the peanut shelling machine works?

The peanut should be soaked before peeled by the peanut shelling machine. The socking time and order is the technology hub for this process. Practice shows that the best order and time is: at first, the peanuts are soaked in the cold water and then socked in the hot water for 2-4 minutes. At this time, the peanut are hot outside and cold inside. The total body has plenty of moisture content. The skin is expanded with hotness which are ready to break off. They are easy to peel. Peanut shelling machine adopts the triangle belt transmission. After a period of using, the new belt becomes loose gradually due to the pulling force. So it is necessary to check up the tightness of every transmission and the clearance of each cooperation parts with proper adjustment.

KMEC is the earliest manufacturer to develop, design and produce the peanut machinery equipment in China with many years of production experience, first class production equipment and standard finished products. Peanut shelling machine produced by our company combines peanut shelling and peanut shell and kernel separation function with the features of simple structure, convenient operation and low energy consumption. Welcome to consult and purchase our products.