Chili pepper washing machine is mainly used for cleaning and delivery of dry pepper, fresh pepper as well as spraying and cleaning in various food industries. The chili washing machine produced by our company is made of high quality stainless steel with completely new design, good shape, stable and reliable delivery performance, stepless speed regulation and easy to use.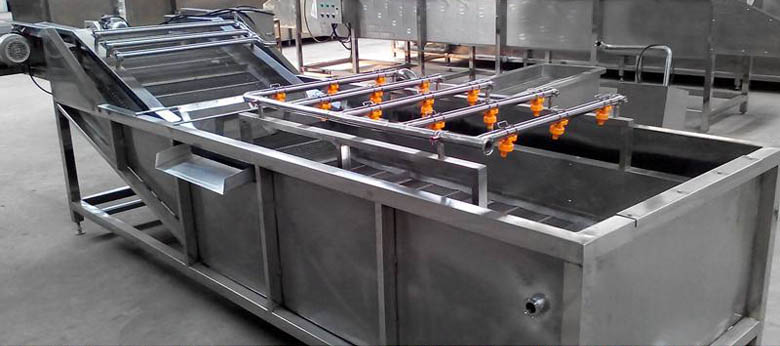 Technical parameters of chili washing machine:
1. Model: KD-600
2. Material: 304 stainless steel;
3. Capacity: 20 tons per hour (It can be customized according to special requirements);
4. The equipment consists of the tank, internal tank, conveying device, bubble generator, spraying device, etc.
The chili washing machine is made of food grade material, safe, reliable and pollution-free. The conveying of material is smooth and the speed can be adjusted. The material moves with the conveyor belt and avoid to be damaged. The noise is small and suitable for quieter working environment. It also has simple structure, easy maintenance, low energy consumption and low cost.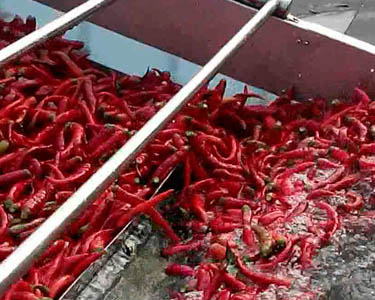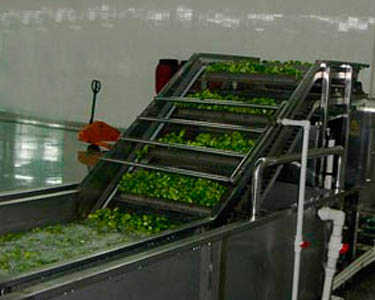 Characteristics of chili washing machine:
1. Chili washing machine is equipped with the circulating pump and filtered water tank. It adopts bubbling, surfing and high-pressure spraying. There is forced impurity removing and filtering water tank for water treatment to remove the impurities mixed with pepper and get the pepper clean thoroughly.
2. The washed hot pepper is delivered through the net chain with automatic feeding and discharging. The conveyor speed can be adjusted according to the production needs.
3. The equipment is equipped with sprinkler device, which can be used to spray the product and reduce the secondary pollution after cleaning in the delivery to the next process.
4. The chili washing machine produced by our company has high efficiency, simple structure and reliable performance. It can be used in large scale cleaning without hurting the hands.
Our company not only produce and supply chili pepper washing machine all year round, but also customize all kinds of dry and fresh pepper processing line according to user's requirements. Contact us if you have any problem on the product or pepper processing technology. Our technical engineer would help you solve it in the first time.