The machine body of kelp washing machine is made of 304 high quality stainless steel. It adopts high pressure steam for bubble bath cleaning with high cleaning capacity and high cleaning rate. The secondary cleaning is realized through the rotation of the conveyor mesh belt with high pressure water flow and send to the next process in the end. The kelp washing machine is mainly used in desalination and washing of kelp, laver, seaweed, sea cabbage, sea cucumber and other aquatic products and seafood.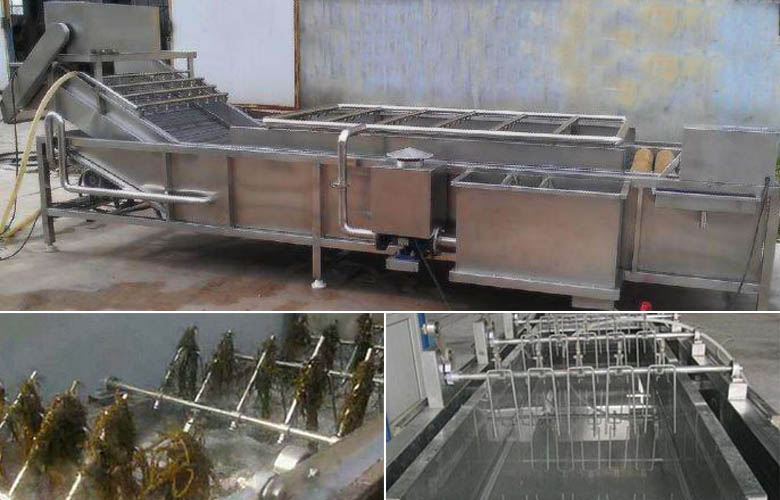 Note: the dimension of kelp washing machine can be customized according to the actual requirements of users.
Power: 380v/50hz
Variable frequency transmission motor: 0.55kw
Manipulator motor power: 0.37kw
Vortex bubble pump: 4kw
Circulating water pump: 7.5kw
Machine power: approximately 12.5kw
Dimensions: 6000*900*1300mm
Features of kelp washing machine:
1. The kelp washing machine is equipped with 4kw of vortex air pump. The material rolls in the water through the air pipe and the cleaning effect can be enhanced by constant rolling. Pressure-proof SUS304 water pipe should be used because of the adoption of high pressure water pump.
2. Due to the nature of the product, there would be mucus on the surface of kelp after water immersion, which would wrap the sediment inside and make it difficult to clean, so high-pressure water washing must be used to achieve better cleaning effect.
3. Due to the slim shape of kelp, it is hard to move inside the tank and there would be material accumulation. Thus, the manipulator of special design is needed to keep the kelp move forward. It can drive the material to move when moving forward and not get the material back.
4. The tank is equipped with an overflow filter, and the floating impurities are filtered and then pumped back into the tank by the pump to achieve the cycling effect.
5. When the kelp is discharging, the upper and lower sides would be cleaned by the water twice to achieve better cleaning effect.
Our company is specializing in the production of various kinds of vegetable washing machine (jujube, potato, chili, carrots, etc.) and vegetable cleaning production line. All kinds of complete set of production line can be designed according to the material to be processed. Contact our sales staff if there is any problem and looking forward to your visit.