The peanut roaster machine is a new type of high efficiency and energy saving roasting machine produced on the basis of years of production experience of our company and integrated the advantages of roasting machine and similar products at home and abroad. Products roasted with the peanut roasting machine have pure taste. The peanut roasting machine has the advantages of energy saving, safe, health and convenient, faster heating, less power consumption, stable performance, low running cost, long service life, easy operation and maintenance, etc. The baking quality can meet the food hygiene standards and international standards.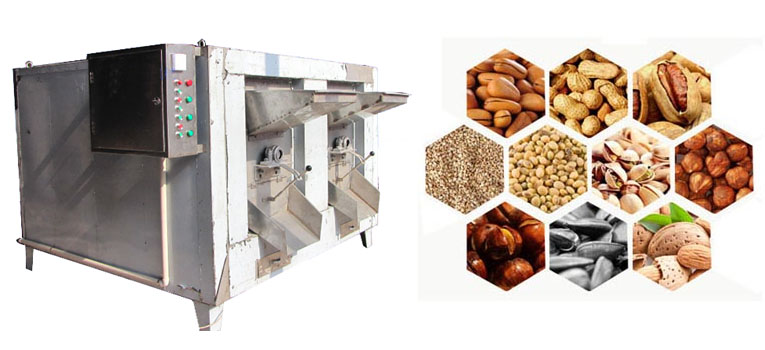 Free field survey, design and installation are provided according to the required output and size of workshop of users.
Technical parameters:
MHL - 2: Dimensions: 2900 * 1400 * 1900,
Motor power: 2.2 kw,
Production: 200kg/h,
Temperature: 0-300 degrees.
Operation note:
1. In the process of heating up, the drum can't stop running in case of high temperature deformation.
2. When changing peanuts kernels or peanuts in shell, 1-2 furnace should be roasted to get the roasting data before batch production due to different moisture content.
Customers can choose the peanut roaster machine according to different output. The roasting temperature of peanut roasting machine can be controlled and the roasting time can be adjusted according to different roasting materials. Materials are heated evenly with unified color and can meet standard of export. If you have demand intention for the products of our company, please contact us, we will provide you with the best service and answer in real time!